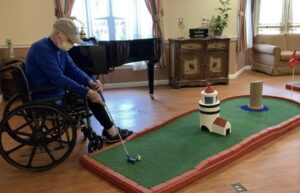 Massachusetts may feel frozen over, but this February, Whitney Place at Northborough brought a bit of summer fun indoors with their Mini-Golf Extravaganza. Residents knew something fun was occurring when Whitney Place Staff members began moving furniture throughout the common areas in the Northborough campus. The mini-Greens were set up throughout the living room, community room, social club, and country kitchen, and golf clubs, golf balls, and score cards were provided for the scramble-style game.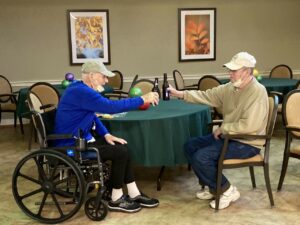 "It was a busy day getting all the furniture moved back and forth," said Assistant Director of Resident Engagement, Sherry Champlin. "But it was all worth it – our Residents loved it! In addition to mini golfing, it was a good social hour. We had everything from peanuts and Chex Mix to beer and wine. If the Residents weren't playing, they were watching, clapping, and cheering their peers on."
SALMON Staff have been getting creative with Resident activities – from celebrating the Olympics, themed events, outside entertainment, to indoor mini-golf, there's always a way to remain engaged and have fun in our SALMON communities.
Director of Tapestry and Director of Resident Engagement, Diane Tonelli, says she and the "Engagement teams collaborate consistently with each other every month to brainstorm new and exciting events to do with the Residents." Tonelli continues, "Residents and their families are looking to stay engaged when they move into a senior living community – our engagement teams can provide that and more!"
The focus of the event was to have fun and get involved. While some of the participants chose not to keep score, one Resident was a clear winner, getting multiple holes in one. Regardless of their totals, this was an activity that everyone could enjoy.
Champlin went on to say, "The spirit of the event was fabulous. Almost all our Whitney Place Residents were getting together and cheering each other on. Even Memory Care Residents and staff participated. It was a wonderful, inclusive activity that everyone enjoyed. We can't wait to do it again in the future!"