Tucked away from the bustling Route 20, SALMON at Northborough sits upon a normally quiet hill. But on August 6 from 3:00 – 6:00pm, the air was full of laughter, excitement, the spray of the hose, and the scent of the sizzling BBQ. Residents enjoyed BBQ and a show as Director of Sales Jim Priest led the charge of this annual event. Friends of the Northborough Senior Center volunteered to help, dedicated to raising money for special events and services at the Senior Center, which our own Residents often join.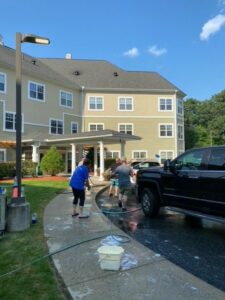 Jim Priest commented on the remarkable success of the event. "We never expected to wash over 50 cars that day. The line just kept going!" Attendees of the car wash fundraiser ranged from commuters on their way home from work to Northborough Police Officers whose police cars needed a shine. One volunteer remarked, "I've never done a car wash before, and now I can't get this smile off my face!" Not only was the weather beautiful, and the food great tasting, this was a chance for the entire Northborough community to reconnect after a long year of social distancing. For many visitors, this was the first time they had visited the SALMON at Northborough campus. Many remarked, "I didn't realize all this was up here!" It was a day to remember, outdoors in the warm air, with water spraying, and great people supporting a great cause.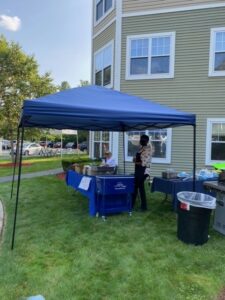 It is thanks to their generosity that the Northborough community was able to surpass their fundraising goal by over 50%. That means 50% more special events and services at the Northborough Senior Center that our Residents can also enjoy. It means 50% more events like spaghetti sauce competitions, luaus, and beer and wine tastings. It means 50% more laughter, excitement, and fun. It means that we have set the bar high for our next car wash fundraiser in 2022. We hope to see you there!