Discover the Life-Enhancing Benefits of Nutrition for
Memory Care
Written by Diane Tonelli, SALMON's Clinical Director of Memory Care, OTR/L, MHA, CDP CADDCT
Find out more about SALMON's Memory Care Program: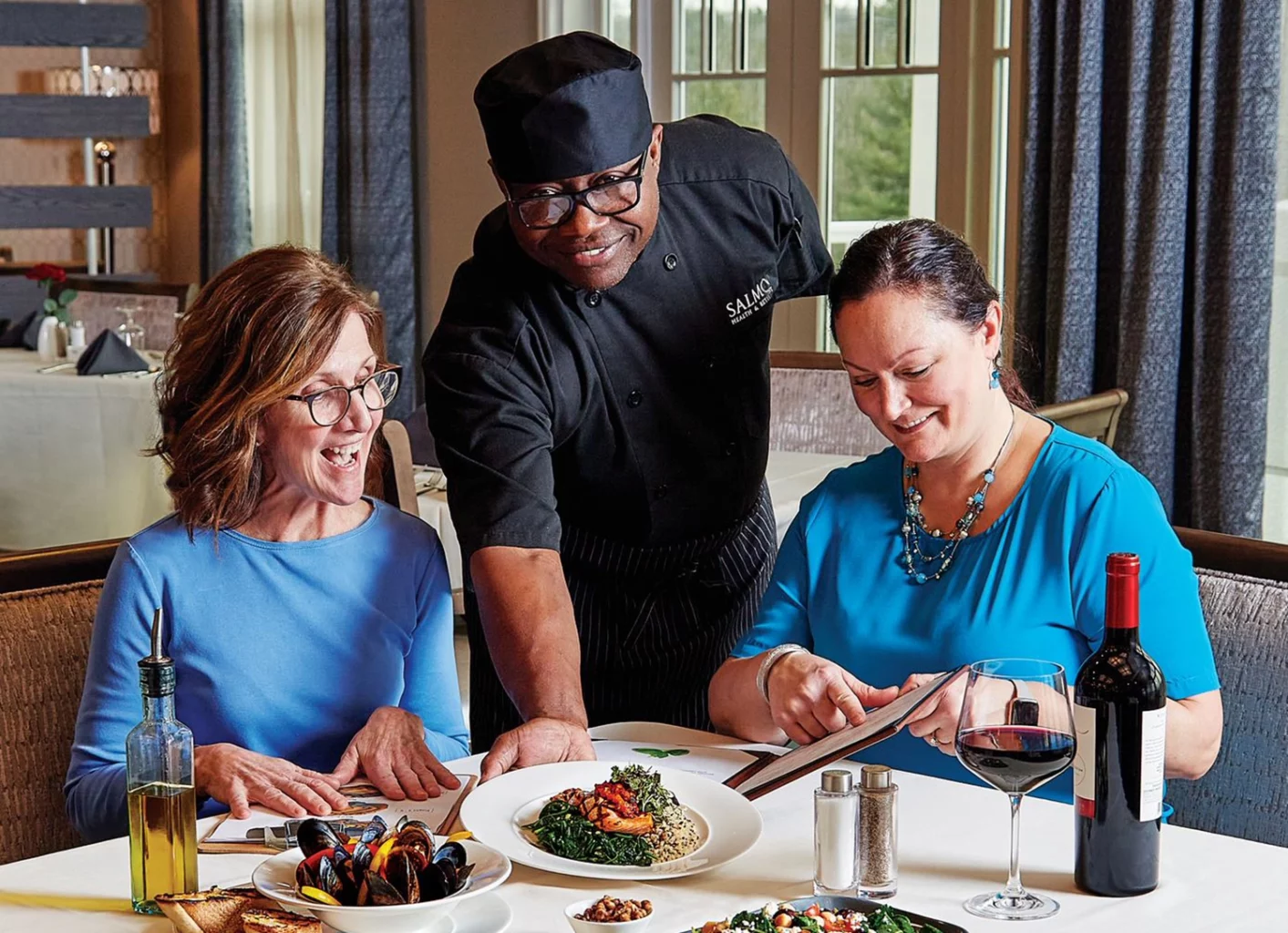 Diet and Dementia have a complex relationship
The relationship between diet and dementia is a complex one, but it is becoming increasingly clear that what we eat can have a significant impact on our brain health. As Memory Care Director for SALMON Senior Living, careful thought goes into all aspects of our Residents' daily lives to maximize brain health and reduce the risk of cognitive decline, or dementia. One key element that we focus on is nutrition – one of the most significant ways to reduce risk of dementia.
Nutrition in senior living is crucial for lowering the risk of cognitive decline
A memory care focused diet that is rich in fruits, vegetables, whole grains, and healthy fats can help to nourish the brain and protect cognitive function. Eating anti-inflammatory foods such as leafy greens, berries, nuts, and fatty fish, can help to reduce inflammation in the brain and support cognitive health. Conversely, a diet that is high in processed foods, sugar, and unhealthy fats can contribute to inflammation in the brain and damage to brain cells when it becomes chronic.
Other nutrients that support brain health and impact the relationship between diet and dementia include omega-3 fatty acids found in fatty fish like salmon and sardines, vitamin E, vitamin B12 and folate, all of which can be found in a variety of whole foods including nuts, seeds, leafy greens, and fortified cereals, and flavonoids and antioxidants found in a variety of berries and vegetables. Even tea and coffee in moderation can improve mental function and short-term concentration.
How SALMON Senior Living Takes Care of Residents' Nutrition
At SALMON Senior Living, we place an emphasis on better understanding nutrition in senior living. We partner with local farms to source fresh ingredients and foods that contribute to a brain-healthy diet. With these locally sourced foods, we're able to carefully develop chef-prepared menus and food options for our Residents that are not only tasty but contribute to overall brain health.
Below is a sample of one of our daily menus – offering a breakfast, lunch, and dinner option:
Three-egg omelet with your choice of onions, mushrooms, spinach, green peppers, and Swiss or American cheese
The Willows Salad – Lettuce, tomato, spinach, pecans, craisins, grilled chicken, and choice of dressing
Grilled Atlantic salmon topped with a lemon beurre Blanc sauce
While there is no one single food or nutrient that can prevent cognitive decline, incorporating a variety of brain-healthy foods into your diet can support brain health. In addition to a healthy diet, it's important to maintain a healthy weight, get regular exercise, sleep well, and manage stress.
Consuming a diet good for brain health doesn't have to be complicated – a general rule of thumb is to fill your plate with colorful foods like whole grains, vegetables, fruits, legumes, and nuts – all food groups that we consider brain food for seniors at SALMON Senior Living.
Memory care experts and nutritionists better understand the complexities of diet and dementia
A great benefit of residing at a SALMON Senior Living community is having the expertise of memory care experts, nutritionists and wellness teams that better understand the complexities of diet and dementia and who will ensure that residents are exposed to brain food that lower the risk of cognitive decline.
Discover SALMON's Continuum of Care
Nutrition is just one part of SALMON Senior Living's Continuum of Care. The Continuum of Care offers an array of expert services for Residents and clients. Most importantly, our Residents have the ability to age in place and are taken care of no matter the level of care needed. Our staff is committed to working together, ready to arrange appropriate care in the middle of a medical crisis, address the changing needs of those we serve, and offer support to them and their family members in a variety of ways.
Join Our Community
Learn more about availability in our senior living communities